Broccoli Cheese Soup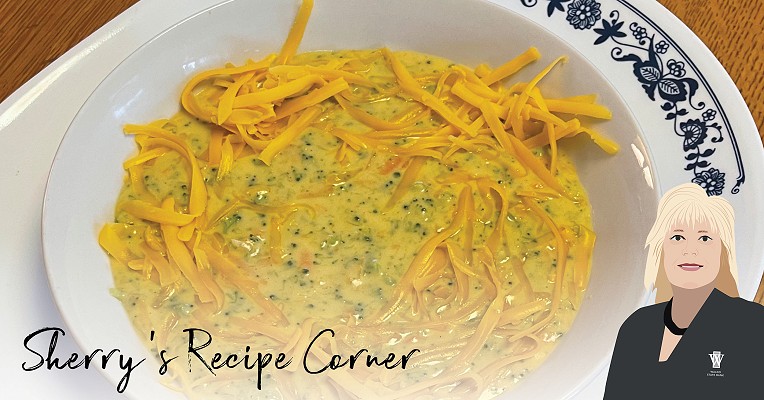 Normally, I like quick and easy meals. While this one is easy - it is not super quick when you include the prep time, yet every second is worth the delicious results! Perfect to make on a cold weekend! This recipe comes compliments of my sister and she sure has a winner with it!


8 T butter (1 stick) - divided
4 c (32 ounces) chicken stock (or vegetable) divided
3 c half and half
1/3 c flour
1 c finely minced onion
3 c finely grated carrots, about 3 large carrots (do not use pre-shredded matchsticks)
1 1/4 pounds of fresh broccoli crowns - divided
2 - 3 cloves of garlic - minced
1 t salt
1 t black pepper
1 t paprika
1 t dry mustard
24 ounces grated high quality cheddar cheese - divided - do not use pre-shredded at you will not get the creamy consistency and your soup my break
Rinse and cut off broccoli tops - cut off bottom of stalk and shred the remaining stalks to equal 1 cup of broccoli shreds
Place 2 T butter, 1 cup of chicken stock, minced onion, grated carrots, broccoli shreds, and garlic in medium sauce pan. Cook until vegetables are all soft, approximately 30 minutes
While that is cooking In a large saucepan steam the remaining broccoli tops - when soft, drain, and mash with a potato masher, set aside
While those are both cooking In a large saucepan

melt the remaining 6 T of butter over medium heat
add the flour and seasonings
whisk constantly for 3 minute
Add in the remaining 3 cups of stock
Add in the half and half
Stir every couple of minutes so it doesn't cook to the bottom of the pan
Simmer until thickened.

When thickened - add shredded vegetable mixture, the mashed broccoli and cook on low for 30 minutes stirring occasional to prevent cooking to the pan. I set a timer for every 5 and it was fine.
Add in 20 ounces of the shredded cheese and cook an additional 5 minutes (I honestly just toss most of it in and don't measure, it is cheese!)
Serve and garnish with the remaining cheese shreds
Enjoy!
If you assemble and prep all of your ingredients (and yep, I used an old fashion hand grater!) you can cook all 3 pans almost simultaneously and you can have a delicious homemade soup in an hour!