Home Equity Line of Credit and Home Equity Loans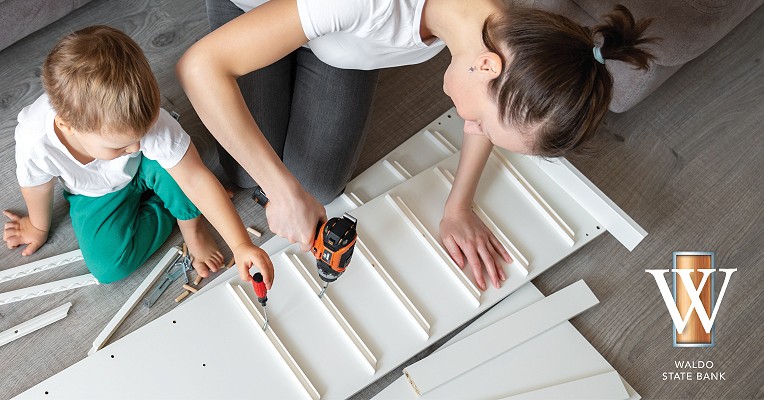 It may not make much sense for you to buy or build a home at this time. Maybe it makes more sense for you to make home improvements. But how would you be able to afford it?

There are several options, including using your home's equity through a home equity line of credit (HELOC) or a home equity loan.
What are these types of loans?
A home equity line of credit and home equity loan takes advantage of your home's equity and uses it as collateral. A home equity line of credit is very similar to a credit card, where you borrow money as you need it from an available balance. You may only pay interest in the amount used and not the entirety of the credit. Interest rates for a home equity line of credit are usually variable.
On the other hand, home equity loans are like traditional loans. It has a fixed interest rate with a fixed set amount of time to repay the loan. You receive a lump sum of the money and are expected to make monthly payments.
There are certainly different benefits and shortcomings with both of these loans. Our financial experts break down the pros and cons of each to help you make the right decision for your situation.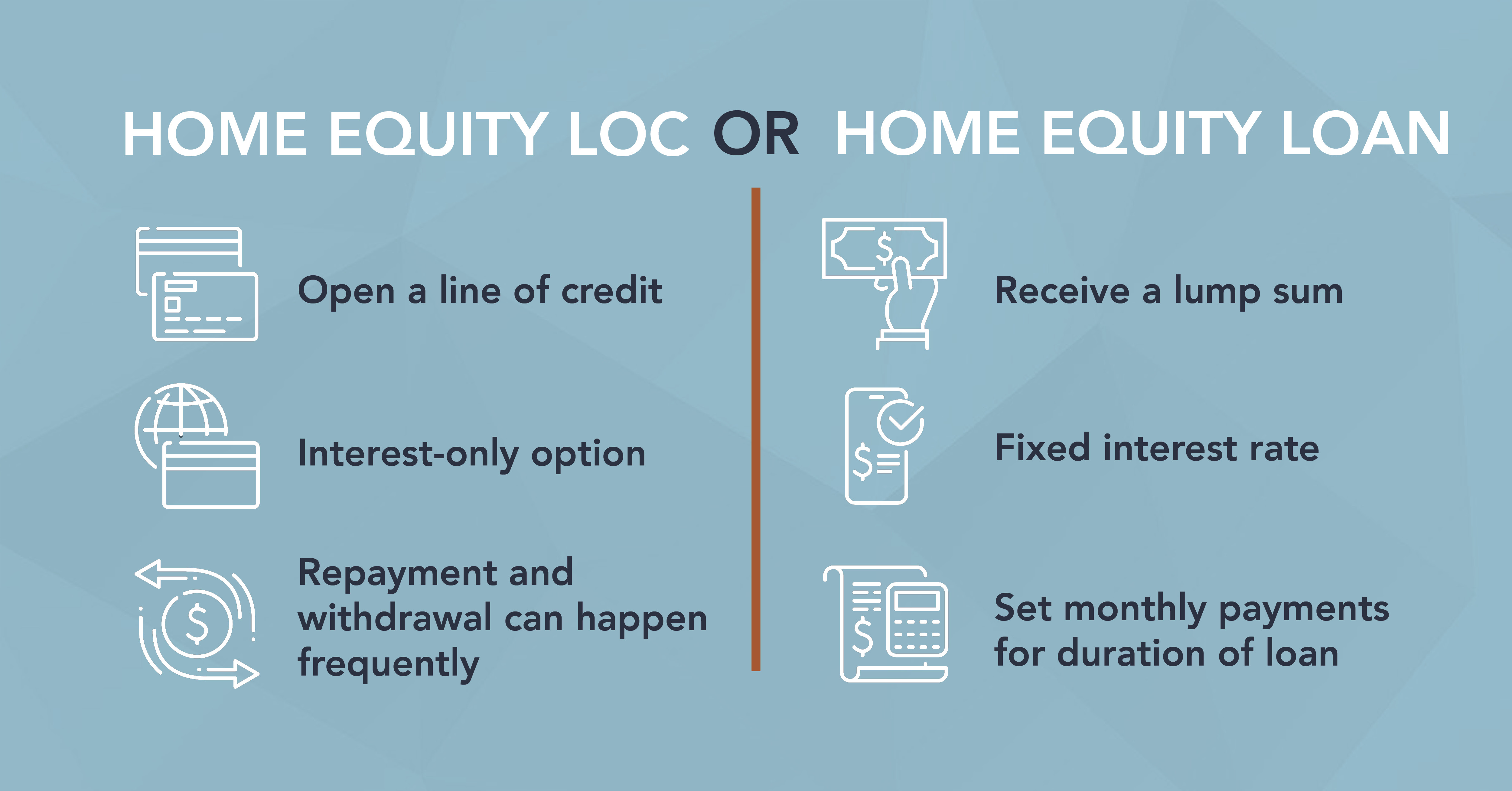 Pros of a Home Equity Line of Credit
Interest Rate
A home equity line of credit tends to have a lower interest rate than a personal loan or credit. Also, the amount you pay in interest is only on the amount of money you use, not the total amount of the loan borrowed.
Flexibility
Like a credit card, you can use funds from this line of credit as you need them. You can pay it off and then reuse the amount as you need it. You also have the option to be able to pay interest-only payments during the draw period.
Opportunities
There are no fees with cash draws, so if you need to purchase something in cash for that home improvement project, you don't have to worry about added fees attached to the transaction. Your interest payment may be tax-deductible if you use it for specific home improvement projects.


Pros of a Home Equity Loan
Interest Rate
The interest rate for a home equity loan is typically fixed. Like the HELOC, since you're using the equity in your home as collateral, interest rates tend to be lower.
Predictable Payments
This fixed-rate loan allows you to plan more accordingly each month for the loan duration. Each month, your payments are predictable because the borrowed amount is a lump sum, and the interest rates are fixed.
Opportunities
There is also an opportunity for your interest payments on this loan to be tax-deductible. Depending on the home improvements, it may qualify for a tax deduction.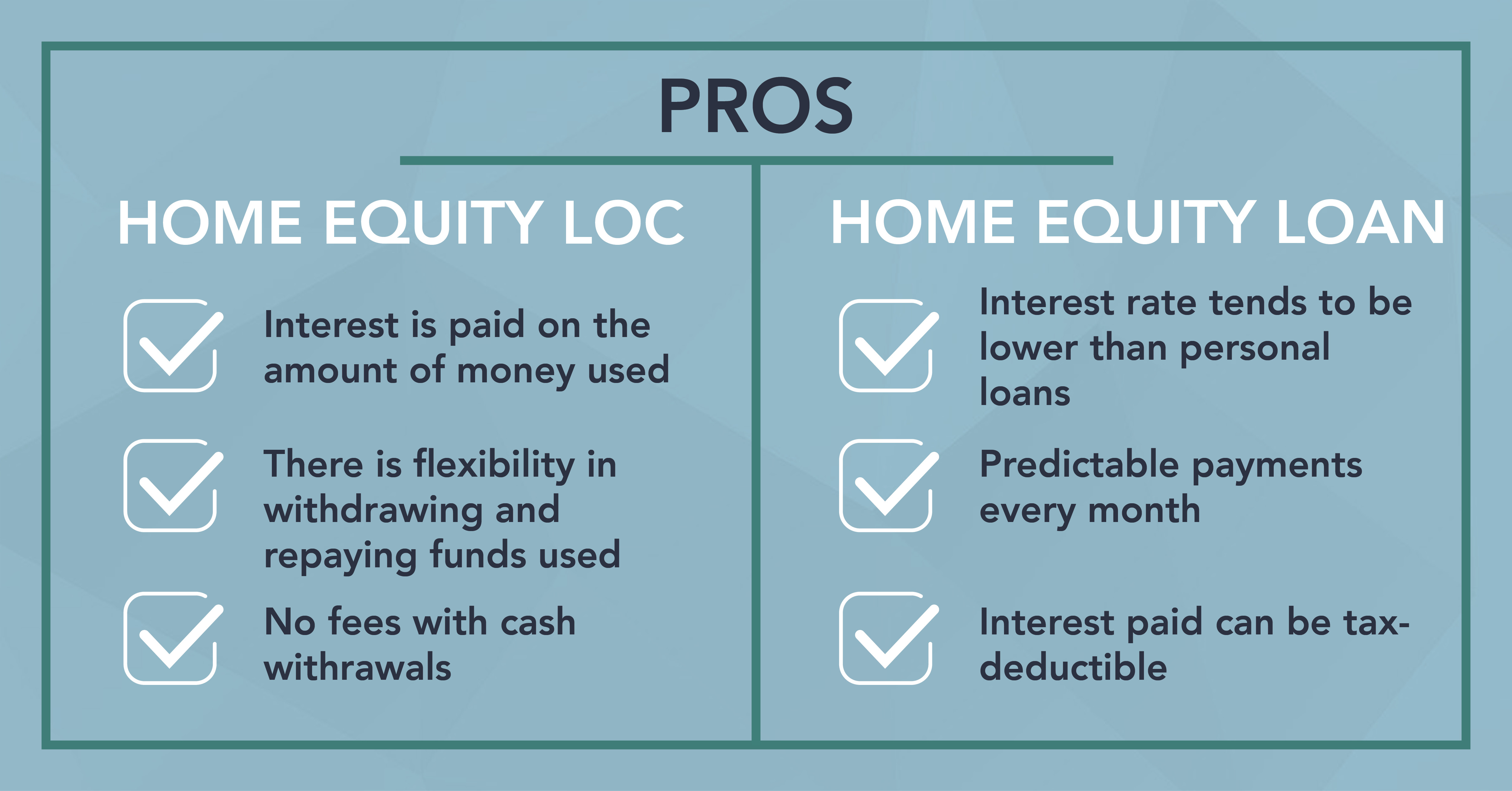 Cons to a HELOC
Interest Rate
It's challenging to plan out the exact amount you need to pay back. While this provides flexibility and options in repayment, you will need to structure a plan for principal repayment.
Extra Fees
Home equity line of credits may come with fees attached like application fees, appraisal fees, maintenance fees, or membership fees. Do your research and investigate what costs may be connected to your home equity credit line.
Can Hurt Your Credit Score
Because you can make interest-only payments, it can be tempting to take out funds and only make interest-only payments continually. Having a home equity line of credit allows you to pay interest-only payments for the initial term of the loan. At the end of the term, there may be a balance that remains to be paid or refinanced.


Cons to a Home Equity Loan
Second Mortgage
Home equity loans are often called the second mortgage because it uses your home's equity as collateral. It works similarly to a traditional mortgage loan. And because this type of real estate loan uses the equity built up for your current home, you need to have a substantial amount paid off on your existing loan to qualify.
Defaulting on Payments
If used responsibly, using your home's equity as collateral can be a profitable venture. And remember, it's considered a second mortgage, so payments need to continue on your current home on top of this new loan. If you can't keep up with the loan payments, you risk foreclosure.
Fees
Associated fees with a home equity loan can include closing costs. It can also include appraisal fees, credit report fees, and document preparation, to name a few.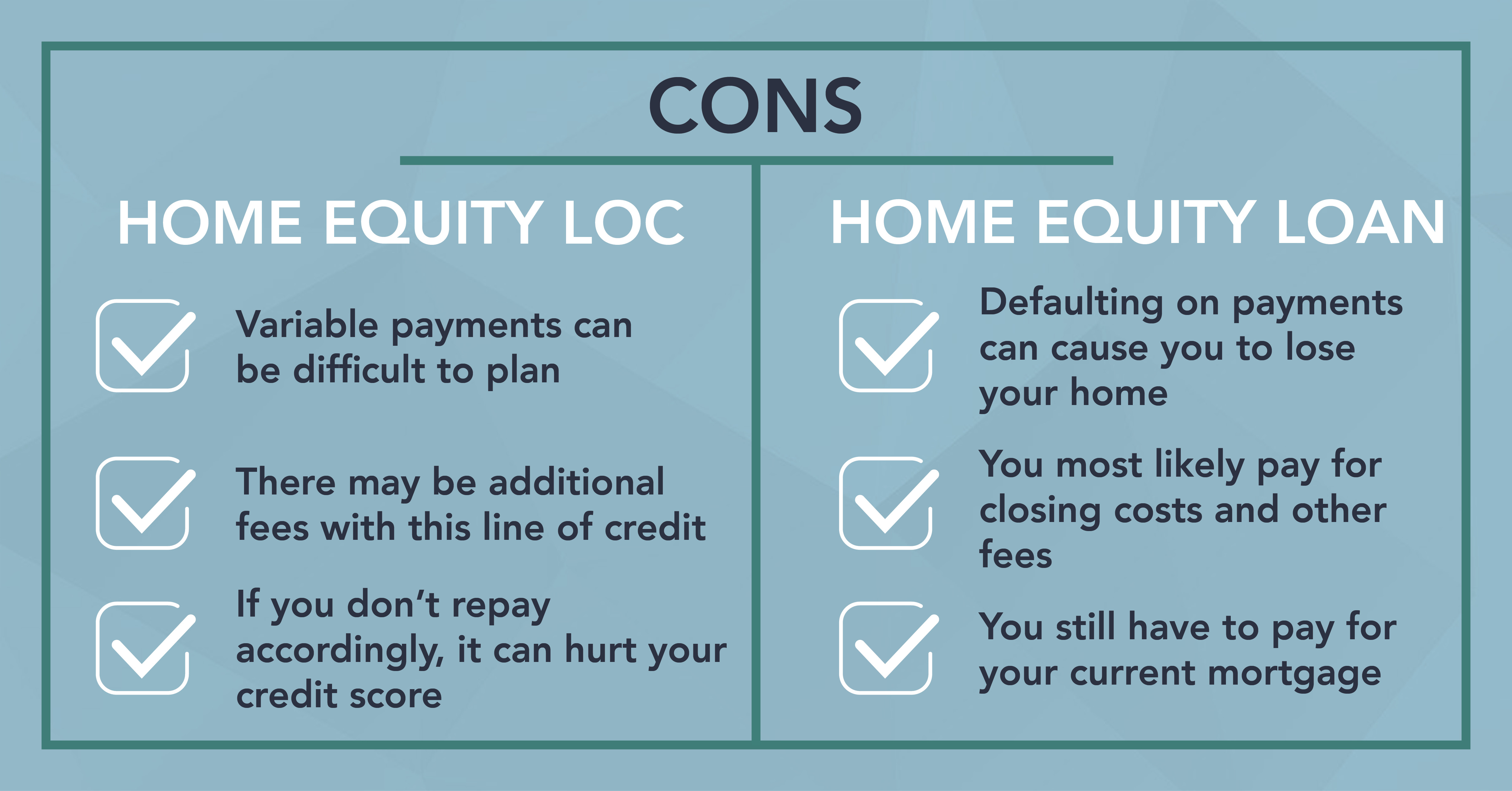 Takeaways
There are other avenues you can take in helping to make improvements to your home. Individuals sometimes use HELOCs and home equity loans to pay for other things, like vacations, or to help consolidate debt.
However, it could be easy to spiral into more debt with how these loans are structured. Whatever your plans are, we are here to help you every step of the way. Contact us today to learn how you can make your home help you.