Recipe for Success: BBQ Whiskey Chicken Skewers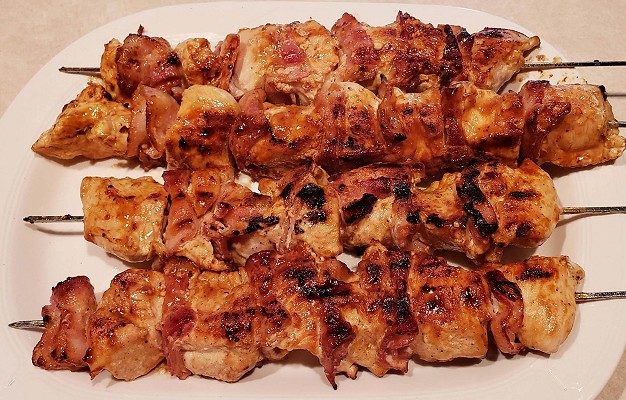 Are you looking for the perfect recipe for your next summer cookout? Look no further than these BBQ whiskey chicken skewers!
INGREDIENTS
2 lbs. Chicken – cut into 1" cubes
6 Slices of Bacon – cut into 1" sections
1.5 c. BBQ Sauce
1/3 c. Whiskey
3 T Brown Sugar
1.5 tbsp. Yellow Mustard
1 tbsp. Olive Oil
1/2 tbsp. Garlic Powder
1 tbsp. Sriracha Sauce (optional)
1 tsp. Salt
1 tsp. Pepper
Thread chicken and bacon onto five skewers.
Mix remaining ingredients in a large bowl and set aside.
Spray your grill with non-stick cooking spray and pre-heat to medium-high for 10 minutes.
Place the skewers on the grill for 2-3 minutes until char marks appear and then flip and start basting the cooked sides. Continue to baste and turn the skewers until they are golden brown. Be careful not to overcook – the chicken should be heated to an internal temperature of 165°.
Serving alongside rice pilaf and grilled asparagus for the perfect summer evening dinner and enjoy!