Sherry's Recipe Corner: Crustless Pumpkin Pie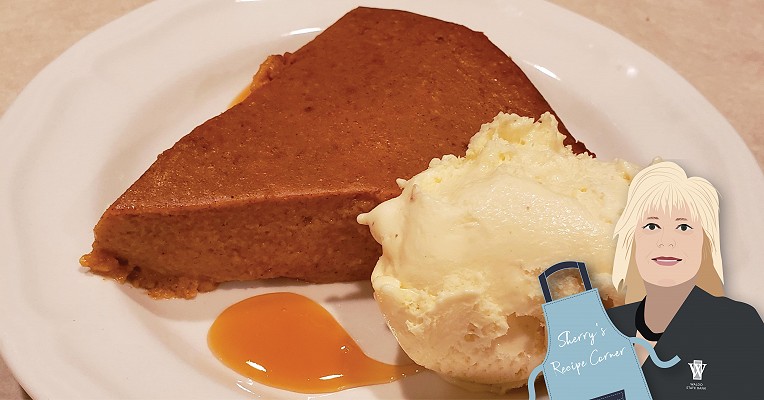 This classic pumpkin pie recipe was tweaked so you still enjoy the benefits without the extra sugar. You won't miss the crust!
INGREDIENTS
15 ounces Canned Pumpkin Puree (1 can)
12 ounces Evaporated milk (1 can)
1/2 c Maple Syrup (sugar-free works great)
2 Eggs
1 Egg Yolk
2 t Vanilla
1 1/2 T Cornstarch
1/4 t Salt
1/2 t Ground Nutmeg
1/4 t Ground Ginger
1/8 t Ground Cloves
1 t Ground Cinnamon
DIRECTIONS
Preheat Oven to 300°F and spray a 9-inch Pie Pan
In a large bowl, whisk together cinnamon, ginger, cloves, nutmeg, salt, and cornstarch – until no lumps remain.
Add maple syrup and vanilla, whisk until dry ingredients completely dissolved.
Add 2 eggs and egg yolk, whisk.
Add pumpkin puree, whisk.
Stir in evaporated milk and mix well.
Pour into pie pan. Bake for 60 minutes or until a knife comes out clean.
For Serving
Serve warm or cold.
Great with a drizzle of caramel, whipped cream, butter pecan ice cream, pecans.
107 Calories, 12 Carbs for 1/6 of the pie
Like this recipe? Share it and come back for new recipes brought to you by Sherry, our Compliance Officer.