Sherry's Recipe Corner: Seafood Delight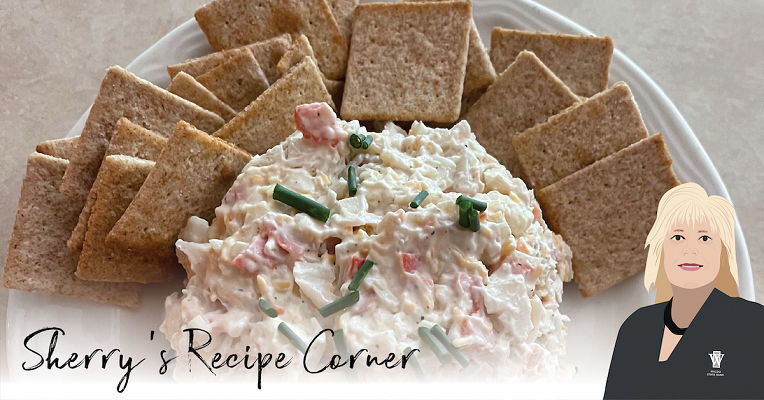 This recipe can be used as a spread with your favorite pita chip, cracker, Tostito, fresh veggies or pile it high on a hoagie roll and enjoy a seafood sandwich with lettuce and tomato!
INGREDIENTS:
1 pound Crab (I use imitation), Shrimp or a Combination of both – diced
8 ounces Cream Cheese (low fat is fine) – room temp
1/4 c Mayo
1/4 c Sour Cream
1 c Pepper Jack Cheese (shredded)
1 c Cheddar Cheese (shredded)
1/3 c Sweet Onion (shredded or finely minced)
2 Garlic Cloves – minced
1 ½ T Lemon Juice
1 T Worcestershire
½ t Sriracha Sauce (more or less to taste)
½ t Salt
½ t Pepper
1 – 2 Green Onions to Garnish (optional)
DIRECTIONS:
Beat together sour cream, mayo, and cream cheese until smooth.
Stir in Worcestershire, sriracha, lemon juice, salt, pepper, onion, and garlic.
Add in cheese and stir until incorporated.
Hand mix in the seafood.
Garnish with green onions
Helpful Hints:
Refrigerate and chill for 3 hours to blend flavors, which can be made the night before.
Will keep well in the fridge for several days.
Share this recipe and more helpful banking tips by visiting WALDO STATE BANK'S BLOG!