Sherry's Recipe Corner: Tasty Pecan Bars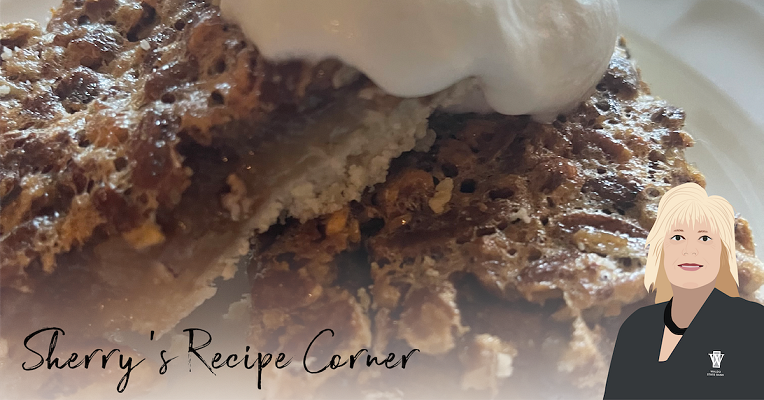 Love Pecan Pie, but want to share with a crowd? Freeze some for future use? These are the bars for you. Tastes just like the pie!
INGREDIENTS

Crust

3 c flour
1/2 c sugar
3/4 t salt
1 c butter

Filling

3 T butter, melt
1 1/2 c sugar
1 1/2 c karo syrup (light)
4 eggs
1 T vanilla
3 c pecans – rough chopped

DIRECTIONS
Preheat oven to 350 and grease a 10 x 15 pan
Crust:

Mix flour, sugar, salt.
Using a pastry cutter or two forks, incorporate the butter until it is smaller than pea-size crumbles.
Press firmly into the bottom of the pan.

Bake for 20 min
Filling:

Mix all except the pecans until well blended, fold in the pecans

At the end of the 20 minutes, take the crust out of the oven.
Top with filling, and bake for an additional 25 minutes.
Cool
Helpful Tip: They taste delicious slightly warm with vanilla bean ice cream or whip topping on top! Also, they freeze extremely well and can be enjoyed later if there are any leftovers!
Share this recipe and more helpful banking tips by visiting WALDO STATE BANK'S BLOG