Recipe for Success: Rhubarb Pie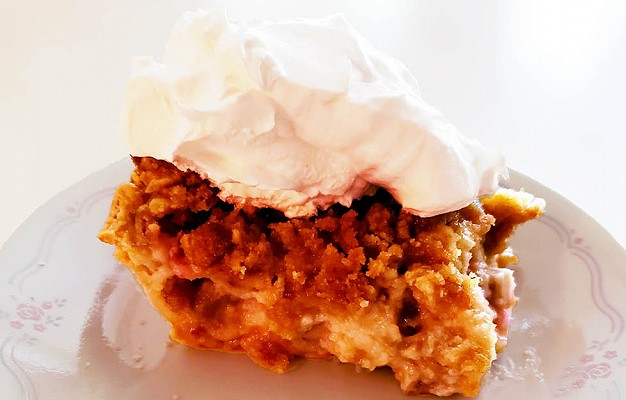 A core piece of who we are is our community, and nothing builds community like a great meal. Each month we feature a favorite recipe from one of our employees or customers. This month, Sherry, our compliance officer, shares her recipe for the perfect summer dessert, rhubarb pie!
Rhubarb Pie
This recipe you can either make in a pie pan or a 9x13 glass baking pan. The amount of Ingredients needed for each are listed separately below.
INGREDIENTS - PIE PAN
1 refrigerated pie crust
4 c. chopped rhubarb
1 egg
1 1/2 c. sugar
1 c. sour cream
1/3 c. + 2 tbsp. flour
Topping
1/2 c. flour
1/2 c. brown sugar
1/4 c. melted butter
INGREDIENTS - 9 x 13 PAN
2 pie crusts (you will use about 1 and 3/4, when fitted in the pan)
6 c. chopped rhubarb
2 eggs
2 1/2 c. sugar
1 1/2 c. sour cream
2/3 c. flour
Topping
1 c. flour
1 c. brown sugar
1/2 c. melted butter
1. Preheat oven to 450 degrees
2. Press pie crust into pan.
3. Add chopped rhubarb.
4. Mix the eggs, sugar, sour cream, and flour.
5. Pour the mixture over the rhubarb, and mix gently to coat
6. In a separate bowl, combine the flour, brown sugar, and melted butter for the topping and then sprinkle on top of the rhubarb mixture.
7. Bake at 450 for 15 minutes, then reduce the heat to 350 and bake an additional 40 minutes.
Top with ice cream or whipped topping and enjoy! It is delicious, both warm and cold!

Do you have a recipe you'd like us to share? Send it to us!