Are you Sweet or Spicy?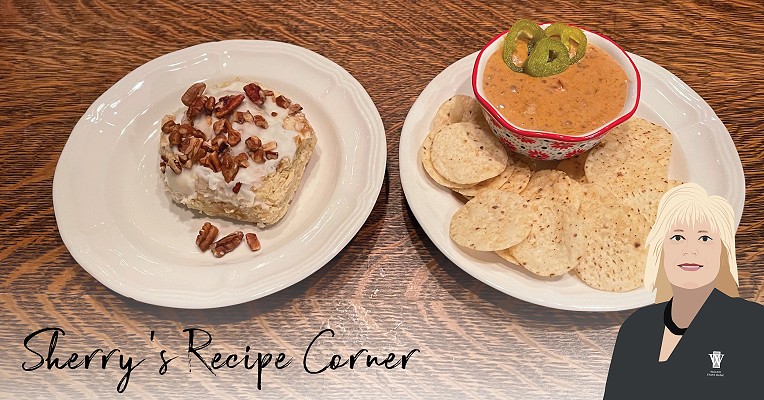 Two game day recipes for you to enjoy! They are both easy, but the dip - the hardest part is shopping for the ingredients!
Game Day Taco Dip - Makes enough for a crowd and be wary, it is addicting!
8 ounces Cream Cheese
15 ounces Cheez Wiz
20 ounces Black Refried Beans
14.5 ounces Diced Tomatoes with Green Chiles
2 c shredded Cheddar Cheese
1 packet Taco Seasoning
1 t ground Cumin
Jalapenos to taste either chop and add to the dip or serve on the side
Mix all together, heat, serve with tortilla chips, and Enjoy!
Sweet German Pastry -or- Cookie - This recipe has taste testers divided, is it a cookie or a pastry? Either way it won rave reviews, you make it and tell me! It make look intimidating, but it is easy to make!
Dough Ingredients
4 c Flour
1 c Sugar
1 t each Salt, Baking Soda, Baking Powder
1 c Butter
1 Egg
1/4 c Milk
1/4 c Water
Filing Ingredients
3/4 c Flour
1 1/2 c Brown Sugar
2 Eggs
Topping Ingredients
2 T Butter - softened
2 - 3 c Powder Sugar
2 - 3 T milk
1 c chopped Pecans (maybe I used a few more??)
Preheat Oven to 375°
Dough
In a large mixing bowl whisk together flour, sugar, salt, banking soda and banking powder
Cut in butter until coarse bits remain
Beat egg, add water and milk to egg
Add to flour mixture and mix until a soft smooth ball forms
Roll out to a rectangular shape on floured surface to 1/2" thickness
Filling
In a different bowl beat two eggs
Add flour and brown sugar, mix until incorporated
Spread filling over your rectangular dough and gently roll from long side to form a log
Assembly
Cut in 1" pieces - I got 15 so may have been bigger than 1"
Place cut side up on greased baking sheet
Bake 10 minutes. Cool
Topping - while cooling
Whisk butter, powder sugar, milk until smooth and desired consistency to be able to thinly top the pastry
Drizzle on and top with chopped pecans
Enjoy!!