How to Avoid Holiday Scams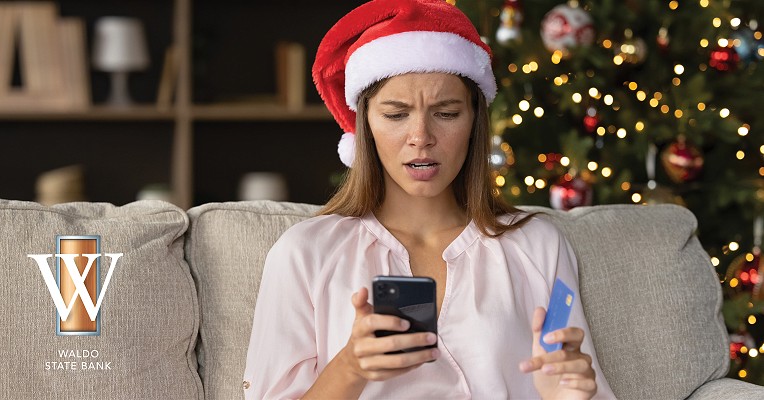 The holidays bring joy to everyone who celebrates; full of presents, gift-giving, and goodwill. Unfortunately, scammers take advantage of these fun and happy times. Our financial experts at Waldo State Bank put together four of the most popular scams and ways to avoid them. Keep these scams in mind and you'll add an added layer of protection to your finances and private personal information.

Gift Card Scams
Giving gift cards make easy gifts, but keep in mind that they are monetary gifts from specific stores. To ensure you're buying legitimate gift cards, avoid buying from online auctions with deals that may seem too good to true - more often than not, they are. Stick to stores that you know and trust and buy them from legitimate retailers.1
Paying with gift cards is another way that scammers lure you into stealing your money. Scammers will pretend they are calling from the government or tech support from a large company like Apple to get you to pay with a gift card. They may even say that you won a prize but need to pay fees, taxes, or debts with a gift card. In the end, if they ask for a gift card as a form of payment, know that it's a scam.2
If you paid a scammer with gift cards, contact the issuing company right away. The Federal Trade Commission (FTC) provides contact information to report gift card scams to popular card companies like Amazon, Steam, and iTunes. Most, if not all, urge you to report the fraud right away to the issuing company and report the scam to the FTC.
Charity Scams
Charitable giving continues to increase after the initial effects of Covid-19. Nine in ten donors plan to give the same or more charitable giving in 2021 than last year.3 Scammers take advantage of charitable givers by trying to rush your giving. They also make vague and sentimental claims but don't give any specifics on how your donations will be used. Scammers also ask for cash, gift card, or wired money.4
Giving with your heart is the best intention but be mindful of how you're giving. Donate wisely by researching the right causes you feel the most passionate about. Online charity databases are available to help evaluate the most legitimate causes registered under 501(c)(3) like Charity Navigator and GuideStar.5
Online Shopping Scams
A Better Business Bureau (BBB) survey found that 29% of people shopped online during the pandemic, which increased to 37% in 2020.6 Unfortunately, with the rise in online shopping, online fraud and scams have increased along with it. Offers from various companies will show up on your social media, when you Google, and even across your television screens. But how do you sift through the wonderful offers to ensure that you get what you pay for?
First, do your research on safe practices for online shopping. Our blog "6 Tips on Holiday Shopping" explains how to keep safe when encountering online and in-person shopping. Scammers can dupe you and your wallet more frequently and efficiently as technology becomes more sophisticated.
Scammers mimic famous retailer websites pretending to sell legitimate luxury items and products. These items are more than likely pirated or counterfeit goods. Scammers are also using social media to help advertise their "business." They'll post product photos on Facebook or Instagram from legitimate businesses and take online orders from unsuspecting victims. BBB found that 70% of the time people lost money while scrolling through Facebook and Instagram weren't even actively looking for a product! 7
Non-delivery scams
As stated in our previous blog, online shopping offers convenience and variety. This also means an increase in deliveries and opportunities for scammers to take advantage of your money and private information.8 According to the Better Business Bureau, the most popular delivery scams include phishing texts or email notifications, fake "missed delivery" tags on your door, and theft of packages.
Phishing texts and email notifications start with a message asking you to "update your delivery preferences." Clicking the link takes you to a form to update your personal information and even downloads malware onto your computer. A common warning sign to watch out for is if these links are misspelled, or the website is slightly changed, especially if it would be coming from a popular delivery service provider like FedEx.9
Fake "missed delivery" notices are simple: a note stating you've missed delivery, and you have to call the number on the message to verify. Scammers take these opportunities to provide a sales pitch to steal your money and personal information. They can convince you to sign up for reoccurring subscriptions and offers by offering free samples or products.10 If you encounter a "missed delivery" notice, make sure to review it for authenticity; use online tracking tools provided by the retailer or delivery service to keep track of your packages.
Lastly, package theft is also steadily increasing as online sales continue to grow as 23% of consumers say they've experienced package theft in 2021. Thieves will purposely drive around neighborhoods or even follow delivery trucks to steal your packages. 11 To discourage theft or prevent it entirely, check with your neighbors for expected packages, require a signature from the delivery service, or ship to the store.12 If you fall victim to a "Porch Pirate," report it to your local police department.
These and many more scams can occur throughout the year and not just during the holidays. But it doesn't mean that it should ruin your celebrations. Take necessary precautions when buying gifts and receiving them. If you're a Waldo State Bank customer and have fallen victim to paying a scammer, contact us immediately. Let us know about any fraudulent charges you may have encountered.
In addition to contacting us, place a report to the Federal Trade Commission (FTC) if you encounter any scam. Any information provided will help our community spread awareness of scamming activity and help the FTC build cases against scammers.