How to Save Money After the Holidays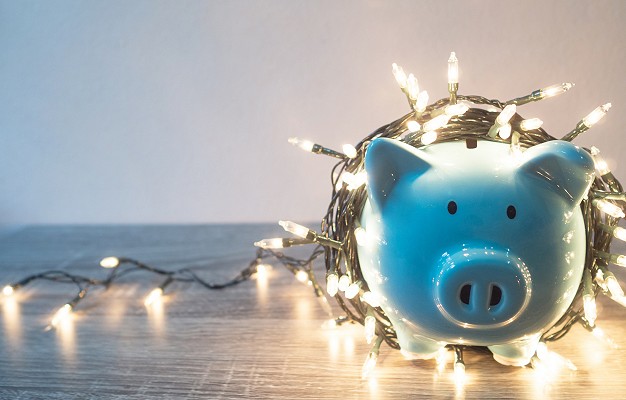 The holidays are an exciting and wonderful time of year, but they can also be very expensive! Pricey gifts, festive decorations, ugly sweaters, and big family dinners can add up quickly before you find yourself way over budget. There's no reason to feel discouraged, however. After all, the holidays are all about feeling good and feeling the love from those around you. And because Waldo State Bank cares about our customers, we've prepared some tips in case you find yourself in over your head after the holidays!
Tip #1 – Balance Your Budget
The first thing to do after the wrapping paper has been thrown out, the bows are all untied, and the tree is out on the curb is to take a look at your statements and evaluate how much you owe towards any credit cards against your regular expenses like rent, mortgage, or utilities. Make sure that you are at least meeting minimum payment requirements and pay in full if you can. The quicker you can eradicate your post-holiday credit card debt, the quicker you'll find yourself in shallower waters when it comes to your finances.
Tip #2 – Don't Add To Your Expenses
After you've completed our first tip, the next thing to do is to put the credit card away! Whatever you do, don't add to your expenses with additional purchases. Work on your balances, make at least the minimum payments if not more, and bring down your debt. Come springtime, you should feel comfortable when looking at your credit card bill!
Tip #3 – Don't Miss Any Return Windows
This might seem like a silly tip, but it's one to take seriously! If you have gifts to return or exchange, large shopping crowds (as well as holiday shopping fatigue) might deter you from returning to the store for these redemptions. Make sure you're aware of your return window so you're not stuck with any gifts you might have purchased or received that need to be taken back!
Tip #4 – Budget Your Spending
We're not naïve; the conclusion of the holidays doesn't mean there will be a cease in your spending. It's completely unrealistic to eliminate ALL spending, but it's completely within your power to put a cap on the purchases you do make. Give yourself an allowance, follow your budget, and keep track of your necessary payments. This will save you from having to count pennies for every purchase after the holiday season!
Tip #5 – Stick To The Plan!
All of the tips above are incredibly useful, but they won't mean much if you don't stick to them! Whether you require all or only one of our tips, make sure you stick to them until you find yourself back on the shores of financial safety. After you're breathing clearly and calmly again, you can dip your toes back into the water for a little responsible spending!
Holiday spending doesn't get any cheaper as time goes on, and the Waldo State Bank staff knows firsthand how much it means to watch friends and family open those amazing gifts during your celebrations! However, the holidays shouldn't leave you in a hole afterward. Follow our tips and find yourself free of financial burden in the post-holiday season!
One final tip: if you want to plan for the holidays, take a look into Waldo State Bank's Christmas Club savings accounts! This special savings account compounds interest for a credit payout in October, placing you a big step ahead of the holiday shopping season! Learn more here https://waldostate.bank/christ... or stop in and speak to a Waldo State Bank representative!