Lemon Dream Torte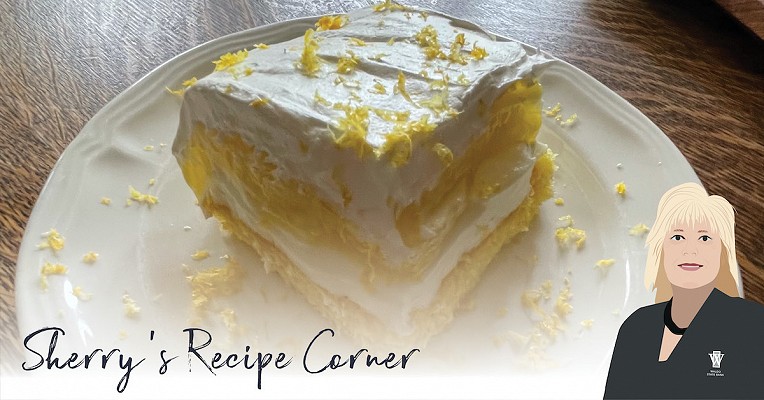 Who doesn't like the sunshine? Put a little in your dessert, add some love, and a few simple ingredients and you have a dessert to take anywhere – that you can keep it cold that is! It will be the highlight of any backyard BBQ!

INGREDIENTS:
Bottom Layer
1 box Lemon Cake Mix
1 box Lemon Instant Pudding Mix
4 eggs
1/3 c Oil
1 c Water
Cream Layer
2 8-ounce Cream Cheese (low fat is fine) - room temp
3 c Powder Sugar
2 T Butter - room temp
2 T lemon juice (fresh squeezed or bottle)
1/4 t salt
Lemon Layer
Top Layer
DIRECTIONS:
Step One – Bottom Layer
Preheat oven to 350 degrees
Spray or line with parchment paper 11 x 15 sheet pan
Mix Cake Mix, Pudding Mix, Oil, Eggs, Water until blended
Bake for 20 – 23 minutes until toothpick comes out clean
Cool Completely
Step Two – Cream Cheese Layer
With the mixer on high, whip Cream Cheese, Powder Sugar, Butter, Lemon Juice, Salt until smooth and creamy
Assembly
On top of the bottom layer, add the cream cheese layer, spread the 2 can of Lemon Pie Filling over, top with Cool Whip.
You can decorate the plate and top with the zest of lemon right before serving.
Helpful Hints:
Refrigerate for a minimum of 3 - 5 hours before cutting to set the layers. If you cut too soon the layers slide.
You can make this in a 9 x 13 pan, which will be more cake like and then cut each of the remaining layers in half.
ENJOY MAKING THIS RECIPE! FOR MORE RECIPES AND HELPFUL BANKING TIPS VISIT WALDO STATE BANK'S BLOG!