Pumpkin Everything?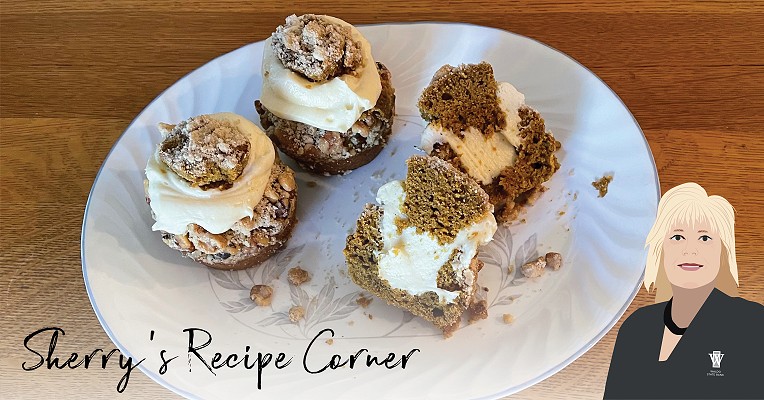 After testing many recipes and failed attempts, I believe we have a winner! This took 3 different recipes to come together to make one muffin, but I think you will find it worth it! It may look intimidating, but it is actually super easy and fun!
Muffin Ingredients
1 15-ounce can Pumpkin Puree
1/2 c Canola Oil
2 Large Eggs
3/4 c Light Brown Sugar
1/4 c Sugar
2 c Flour
1 T Pumpkin Pie Spice
2 t Cinnamon
1 t Baking Powder
1/2 t Baking Soda
1/2 t Salt
Streusel Ingredients
3 T Butter – melted
1/2 c Light Brown Sugar
1/2 c Flour
1 c Walnuts or Pecans – chopped
Cream Cheese Filling Ingredients
2 - 8 ounce Cream Cheese – low fat is fine, room temperature
1/2 c Butter – room temperature
3 c Powder Sugar
2 t Vanilla
1/2 t salt
Preheat oven to 325 degrees and spray muffin tins – makes 12 large
Muffin Mix
Mix with mixer on low first 5 ingredients until blended and smooth – Pumpkin, Oil, Eggs, both Sugars.
Add in remaining ingredients, mix on low until well blended.
Distribute evenly between the 12 muffin cups
Streusel Mix
Mix all together and sprinkle over the muffin batter
Bake at 325 for 35 minutes or until a toothpick comes out clean. Cool completely.
Cream Cheese Filling Mix
Whip all ingredients with a mixer (I used a hand mixer) until smooth and creamy
Place in a Ziploc baggie and cut the end off one corner to make a piping bag
After completely cooled it is time to fill! ~ Using a sharp serrated knife, carve out a small muffin center, gently use a small spoon to push the sides of the muffin back to make a nice opening. Fill with the cream cheese filling and place the small muffin center into the filling, gently pushing it in.
Keep Refrigerated and Enjoy!