Sherry's Recipe Corner: Creamy Pumpkin Torte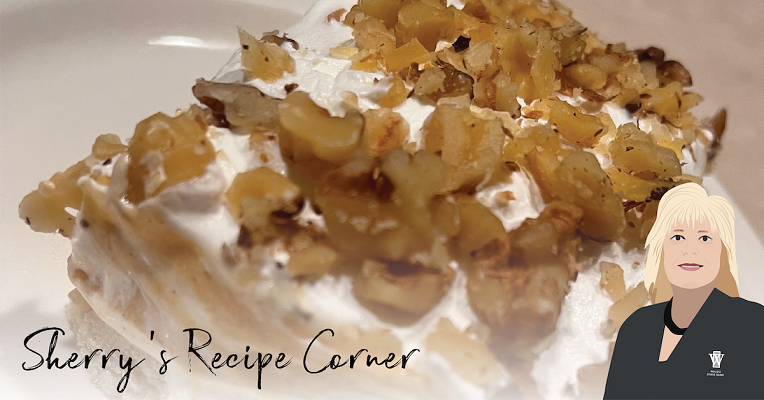 It sure is Pumpkin Spice season and Waldo State Bank is joining in! This month we feature a cool and creamy taste of pumpkin that sure hits the spot!
INGREDIENTS
1 1/2 c Flour
3/4 c Butter – softened
1 1/2 c Pecan – chopped and divided
12 oz Cream Cheese – softened
1 1/2 c Powdered Sugar
1 16 ounces Cool Whip – divided
2 1/2 c Milk
3 (3.4 ounce) Packages Instant Vanilla Pudding
15 oz can Pumpkin
2 t Pumpkin Spice
DIRECTIONS
Preheat oven to 350 degrees
Layer 1

Mix flour, butter, and 3/4 c of Pecans.
Press in bottom of sprayed 9 x 13 pan and bank for 15 minutes.
Cool Completely
Layer 2

Blend cream cheese and powder sugar.
Fold in 1/2 of the cool whip. Spread over crust.
Layer 3

Beat milk, pudding mix, canned pumpkin, and pumpkin spice until smooth and thickened.
Spread over two layers.
Layer 4

Top with remaining cool whip and then the pecans.
Helpful Tip: Chill for a minimum of 3 hours, overnight is best.
Share this recipe and more helpful banking tips by visiting WALDO STATE BANK'S BLOG